Small river sand dryer from Sunco Machinery can be used to process and dry river sand, and the can produce 3 tons dried sand per hour.
This small river sand dryer is designed on the base of the below information:
Raw material: wet river sand

Initial moisture content: about 15%

Need output moisture content: less than 3%

Output Capacity of small sand dryer: 3 tons per hour

Fuel: diesel
The key machine is rotary sand dryer, with diamter 1.3m, length 4m, with 5.5kw inverter motor and reduction gear box. and the other related machines are diesel burner, hot air furnace, hopper, inlet belt conveyor, cyclone dust seprator, induced fan, rotary airlock valve, outlet belt conveyor, electric control cabinet, etc.
The work flow of small river sand dryer system is as below: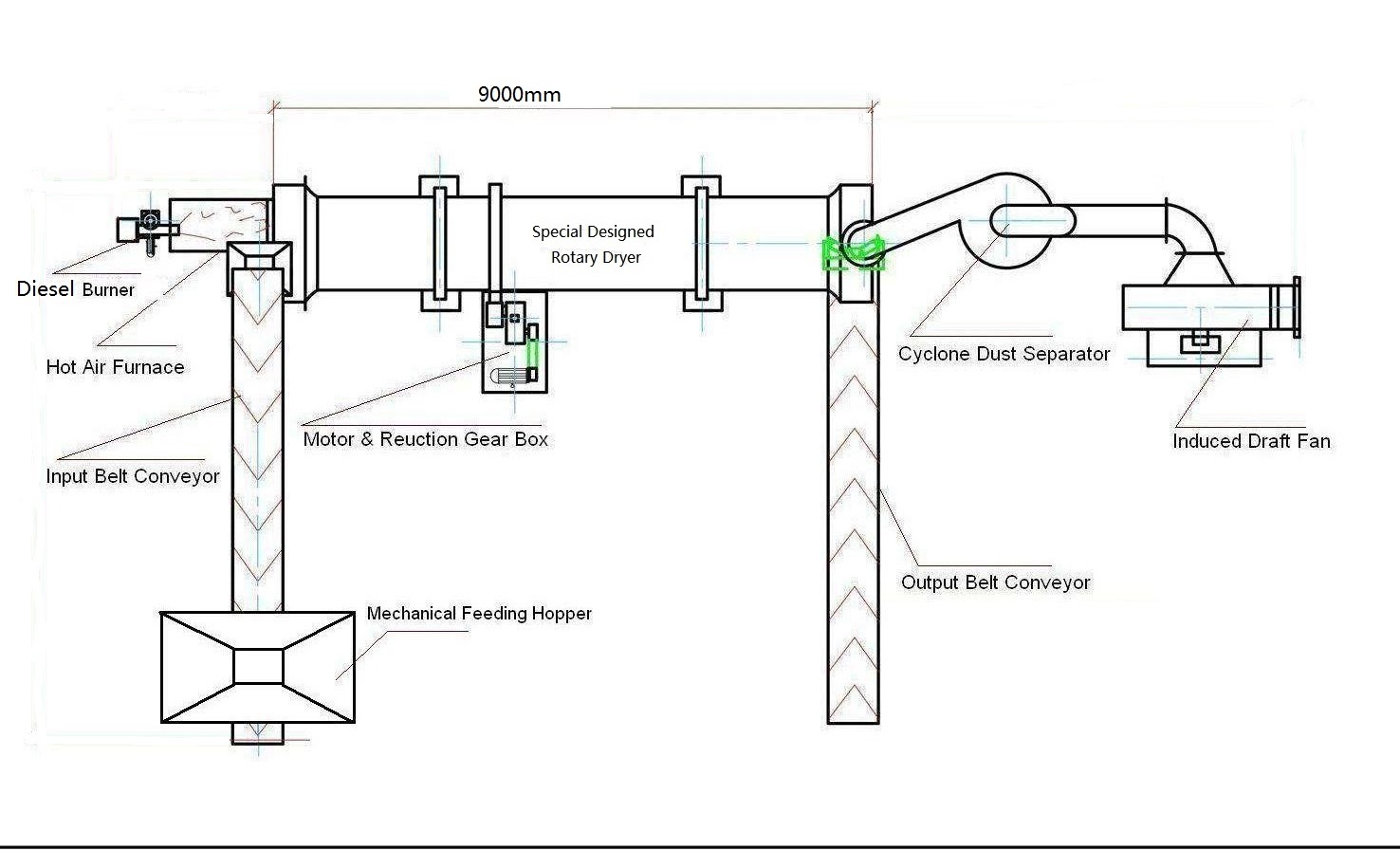 In order to have output capacity 3 tons dry sand per hour,
Every hour need to process and dry 3.4 tons wet sand with moisture content about 15%

Every hour need to evaporate 0.4 water into vapor from wet river sand

Electricity power consumption is about 10kw

Diesel consumption is about 22kg per hour

Operation workers needed 1-2 people.
For the small river sand dryer, it is to use high temperature air to heat and dry the wet sand strongly and quickly, thus sufficient heat is one key factor for achieving the designed drying capacity.
For this small sand dryer, every hour need to evaporate 400kgs water into vapor, thus needs to consume about 240,000 kcal heat per hour. The matched diesel burner's max heat output is 300,000 Kcal Per hour which's heat is sufficient.
For more details of small river sand dryer machine , you are welcome to contact Sunco Machinery at your convenience.