In order to suggest and manufacture the right sand dryer machine, the righ calculation and design is one key point.
Then how to calculate and design sand dryer machine ?
Firstly need to be clear on the clients' demand infomation as follows:
Initial moisture content (%) of wet sand

Output moisture content (%) of dried sand needed

Input capaicty (tons per hour) of sand drying machine

Prefered fuel such as diesel, natural gas, coal, biomass pellet, etc

Dust Removal Requirement
In order to achieve the targeted drying capacity, all the related machine in the sand drying system should can match and work well with each other. One whole sand drying system mainly consisits of burner, hot air furnace, rotary airlock valve, rotary sand dryer, input belt conveyor, output belt conveyor, cyclone dust separator, induced fan, pulse bag filter or water dust removal tower, electric control cabinet, etc.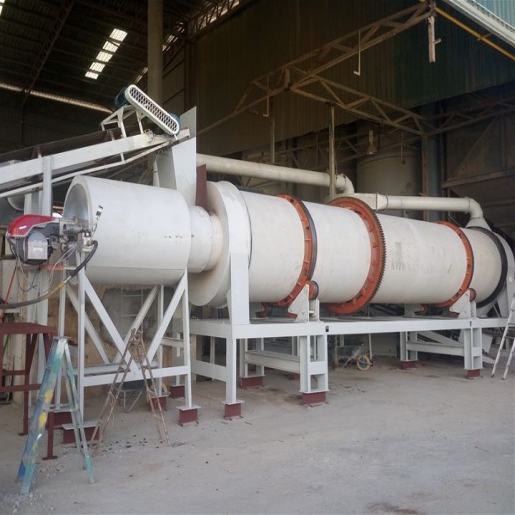 Rotary sand dryer is the key equipment for a successful sand drying system, and here we mainly focus on the calculation and design of sand drum dryer itself.
For example, river sand, the initial moisture content 15%, output moisture content needed less than 3%, sand drying output capacity 3 tons per hour, prefered fuel diesel.
In order to produce 3 tons dry sand, then every hour need to process and dry 3.42 tons sand, and it means that 0.42 tons water needs to be evaporated into vapor and to be got rid of from wet sand accordingly.
For drying sand, the sand dryer not only need to supply enough drying time, but also needs to supply enough drying and evaporation space.
The volume ratio between sand and dryer usually is about 1: 6. 1 m3 sand is about 1.5 tons, then the volume of 3.42 tons sand is about 2.3 m3.

The volume ratio between water evaporation quantity and dryer is about : 110 kgs water per 1 m3 dryer space per hour.

The sand moving speed through the dryer usually is less than 1m, and the drying time is about 15 minutes then can get very dry sand.



Here Sunco Machinery suggest the diameter 1.3m, length 4m triple pass dryer, and the sand moving distance inside the dryer is about 12m.
The sand drying time inside the dryer is: 12m / 0.8m/m = about 15 minutes. It means that one hour the sand can pass through the dryer 4 times.

The dryer volume is about 4m3. Then, it means that 4m3/6 x 4 = 2.7 m3 wet sand can pass through the sand dryer per hour. The weight of 2.7m3 sand is about 3.8 tons.

The water evaporation ability is 4m3 x 110kg per hour = 440 kg water per hour.
As a result, the above suggested diameter 1.3m, length 4m triple pass rotary sand dryer can process and dry 3.42 tons wet sand, and finally produce 3 tons dried sand.
The above calculation is just to give one general idea on the design of sand dryer, in actual situation, the related design is much more complex which also need to combine the years' actual drying experience.