Good News! On January 18th-19th, 2021, Sunco Machinery delivered one set of capacity 10 tons per hour poultry manure drying system for Indonesia customers.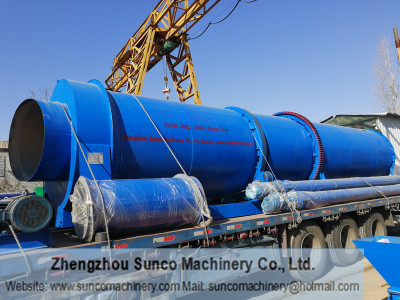 In the past, this Indonesia customer once purchased one set of expensive chicken manure processing system from Japan, but unfortunately as the Indonesia weather is very different from Japan, such one set chicken manure processing line is not suitable to be used in Indonesia actually.
This Indonesia customer is one member of Thailand CP Group, and they have many large chicken farms in Indonesia. It is one headache problem for they to process the large quantity chicken manure. In the past, as they did not find reasonable ways, they meets serious odor and fly problems, and it seriously influence the working environment of their chicken farm. Thus they are also to be complained by nearby residents.
Every hour they need to process and dry the fresh chicken, and the reduce the moisture content from about 75% to be less than 30% directly and continuously. They prefer to use calorific value 5000 Kcal coal as fuel, and need to dry 10 tons wet chicken manure per hour.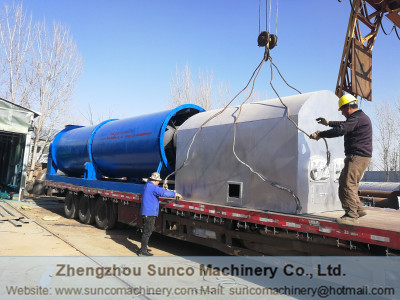 According to Indonesia customer's actual demand, Sunco Machinery designed and manurefactured one whole set of chicken manure drying machines accordingly. In fact it includes two sets of input capacity 5 tons per hour chicken manure dryer machine. The key equipments are Mechanical feeding hopper, Inlet screw conveyor, coal fired hot air furnace with blower, Chicken Manure dryer machine, output belt conveyor, air duct, cyclone, deodorization tower, condenser, chimney, induced draft fan, etc.

As influenced by the covid-19 virus, the engineers of Sunco Machinery can not go to Indonesia to help them directly. Right now Indonesia customers are installing the chicken manure drying system by themselves according to the related technical documents supplied by Sunco Machinery. Wish all the things run smoothly there. Sunco Machinery will supply the necessary assistance as need accordingly.
If you are in need of poultry manure drying machine, please feel free to contact us by:
--- Email: suncomachinery@hotmail.com

--- WhatsApp/Mobile: +86-15838214261