Barite Mill Brief Description:
Barite Mill is one type of roller mill which use roller and ring to grind the barite rock into fine powder. The final barite powder fineness of barite grinding mill (Raymond Mill) can be 325 mesh, and usually 200mesh barite powder is used widely in the oil drilling industry.

Barite Mill (Raymond Mill)Advantages:
1. Vertical and compact structure, small floor area needed.
2. 99% passing ratio.
3. Driving system of main frame adopts airtight gearing and pulley, drives smoothly and operates reliably.
4. Main parts of the whole plant are made from cast and steel of high quality.
5. Centralized controlled electric control system, thus high automaticity, and no people is needed in the operating room.

Barite Mill System Workflow :
1. Barite Rock is crushed into smaller size which is suitable for the barite mill in advance.
2. Bucket Elevator transports the crushed barite into hopper.
3. Under the hopper there is one vibrating feeder, and this vibrating feeder sends the crushed barite into the grinding chamber of the barite grinding mill.
4. Inside the barite grinding mill, the barite is grinded into fine powder by the roller and ring in high rotating speed.
5. After the selection of the powder analyzer machine, the fine barite powder which meets the requirements goes out of the cyclone powder collector as the final product.
6. According to the customer's demand, can use one bagging machine to pack the barite powder into bag.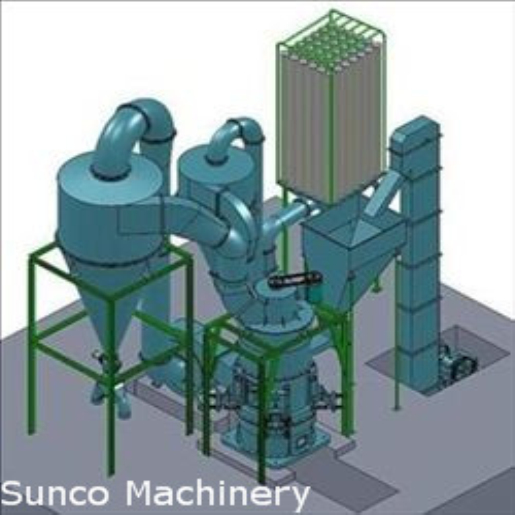 Barite Mill Machine Specification :
Model


Roller

Number

Roller Size

(mm)

Max. Feed

Size (mm)

Output Size

(mm)

Capacity

(t/h)

Mainframe

(kw)

Blower

(kw)

Overall Size

(mm)

QBM6515

3
210X150

12-20
0.613-0.033

0.25-2.0
15

11
4100X3300X4500

QBM7815
3
260X150

15-20

0.613-0.033

0.28-3.0
18.5
15
4300X3500X5100

QBM3016

3
300X150

15-20

0.613-0.033

0.35-4.0
22
18.5

5300X4100X5200

QBM9517

4
310X150

15-25

0.613-0.033

1.5-8.0
37
37
7100X5900X7900
QBM4121
5
410X210
15-25

0.613-0.044

5.0-12.0
75
75
7850X8000X9700
QBM4528
6
450X280
15-25


0.613-0.044

5.0-22.0

132
132
12550X5700X8300
Notice: Any change of Barite Mill (Raymond Mill) technical data shall not be advised additionally.
If you are interested in our Barite Mill, please refer to:
◆ Email: suncomachinery@hotmail.com

◆ Mobile: +86 15838214261

◆ Video: https://www.youtube.com/watch?v=OEY6sF_TbpM
https://www.youtube.com/watch?v=mKndTS0SpOI