Brief Introduction of Chicken Manure Dryer Machine:
◆ There are so many chicken farms and everyday hugh quantity of chicken manure is created. The fresh chicken manure moisture content is up to about 70-80%, and it is too wet to be stored and used.

As short of digestive system of the chicken, much nutrition of the chicken feed is not absorbed, and discharged out as manure. Chicken manure is high in N,P,K which is great for vegging plants not flowering, and it is good organic fertilizer to improve the soil quality.
Without suitable processing, not only it will cause serious flies problems and occur strong odor to pollute the environment, but also it can not be used as organic fertilizer for the crops directly, and the fresh chicken manure can easily burn plants' roots.

◆ Sunco Machinery have been working in the field of drying chicken manure since the year 2006. From then on, we have seen many different chicken manure drying methods with varying degrees of success.
The past actual drying experience has proved that one of the most cost-effective and efficient method for drying poultry and farm animal manure is to use of rotary drum type chicken manure dryer machine.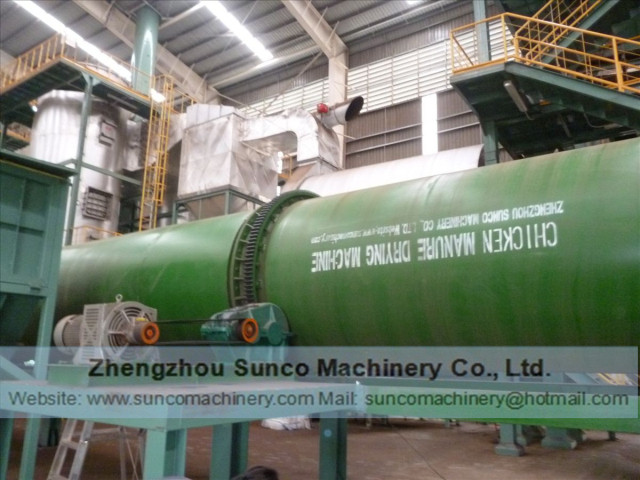 ◆ Without additional dewatering device, Chicken Manure Dryer by Sunco Machinery can dry and reduce the moisture 70%-75% chicken manure to be about 13-15% or as need one time directly.
After being dried, the dried chicken manure is safety for storage and production of organic fertilizer.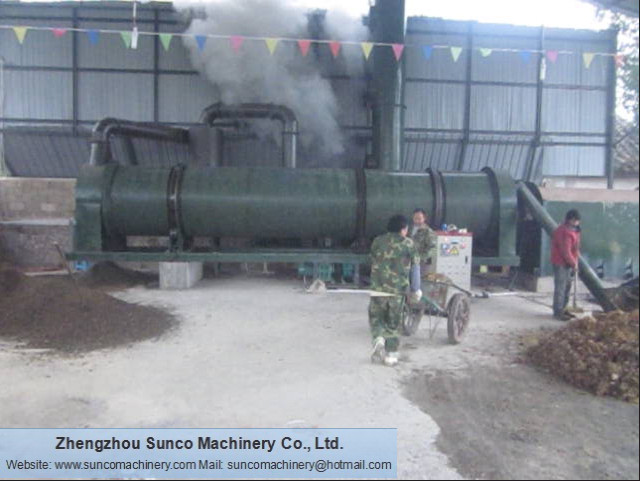 ◆ Chicken manure dryer also is well kown as fresh chicken manure dryer machine, rotary manure dryer, poultry manure dryer, manure drying machine, etc. It is also suitable for drying other types of high humiditiy material such as coal slurry, pomace, bean dregs, vinasse, etc.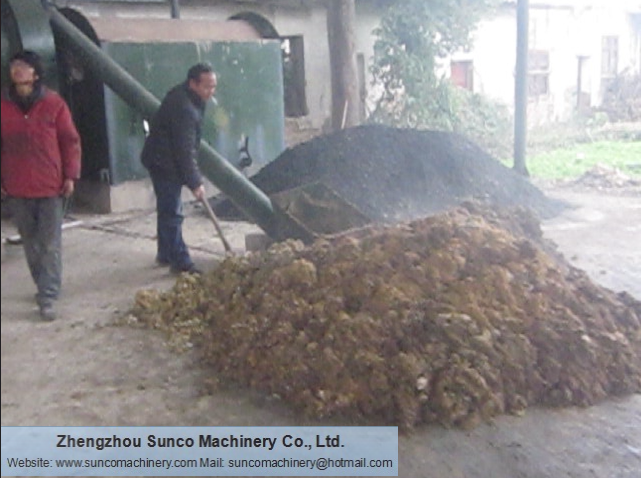 ◆ For the production of organic fertilizer, usually the needed moisture content is about 20%, and then the dry manure can be used as fertilizer directly, or use pellet mill to make the dry manure into organic fertilizer pellets.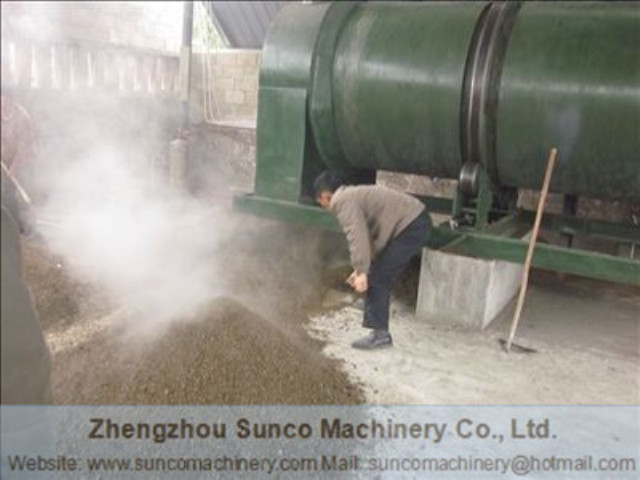 Chicken Manure Dryer Machine Consists of:

◆ Hot air furnace system;
◆ Wet Manure Feeding System;
◆ Manure drying System;
◆ Dried manure discharging system;
◆ Induced Fan System;
◆ Dust Removal System.
Chicken Manure Dryer Machine Working Process:


◆ Burner and hot air furnace supply the high temperature air for the chicken manure drying system.
◆ Input Screw Conveyor takes the wet chicken manure out of the pit hopper, then send it into the dryer machine.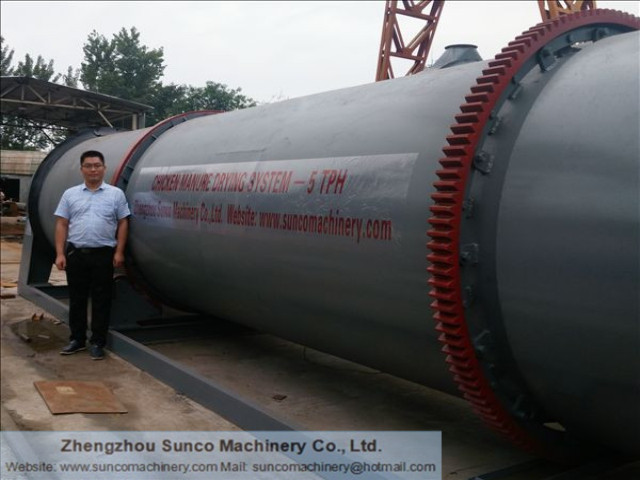 ◆ Induced fan sucks the high temperature air into the dryer cylinder, and after heat exchanging, then make the exhaust air and water vapor out of the dryer drum in time.
◆ Rotary chicken manure dryer uses the high temperature air and its special inner device to heat and dry the wet manure sufficiently and continuously, and finally get rid of the water.
◆ Cyclone dust separator is used to get rid of the fine dust.
◆ Deodorization Tower and recycling water pool is used to process the odor of exhaust air.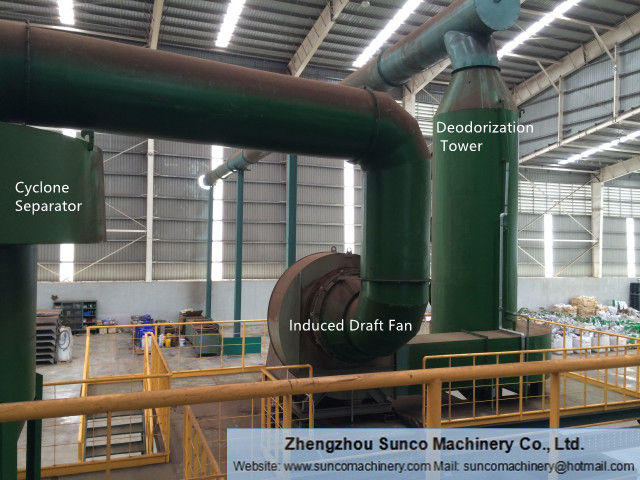 ◆ Output belt conveyor takes the dried manure out the chicken manure dryer, and send it to the product packing and storage area.

◆ Electric control cabinet is used to control the whole chicken manure drying system.
Broad Fuel Option of Chicken Manure Dryer Machine:
◆ Waste Wood
◆ Coal
◆ Biomass Pellet
◆ Diesel
◆ Natural Gas, LPG

◆ Other fuels
Advantages of Chicken Manure Dryer Machine :
◆ Special Inner structure helps to increase the heat contact area between hot air and wet chicken manure, with high heat exchanging efficiency.
◆ Triple Pass Drying, and chicken manure passes through the dryer drum 3 times, with longer drying time.
◆ New design Deodorization tower with patent, environment friendly;
◆ Compact Structure with better body balance, horizontal installation.
◆ Quick and continuous drying process, within about 20 minutes can get the dry manure.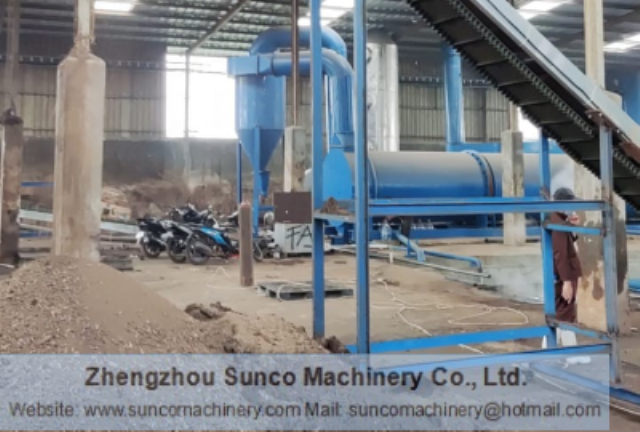 Specification of Rotary Chicken Manure Drying Machine:
Model

Input Capacity (T/H)
Input M.C.(%)
Output M.C.(%)
Dryer Motor (KW)
Heat Consumption (Kcal/hour)
SCM1112
1.0
40-50%

or

70-75%
13-20%(adjustable)
5.5
260,000 or 390,000
SCM1312
1.5
7.5
440,000 or 680,000
SCM1316
2.0
11
600,000 or 910,000
SCM1515
2.5
15
680,000 or 1,150,000
SCM1518
3.0
15
890,000 or 1,460,000
SCM1718
4.0
18.5
1,150,000 or 1,820,000
SCM1918
5.0
22
1,450,000 or 2,270,000
Information needed to design and suggest Chicken Manure Dryer Machine :
Sunco Machinery can design and supply the Chicken Manure Drying System for the customers specially according to the information as follows:
01. Initial moisture content (%) of wet chicken manure ?

02. Output moisture content (%) of dry chicken manure needed ?

03. Input Capacity (ton per hour) needed ?

04. Prefered fuel such as waste wood, coal, diesel, or natural gas, etc ?

05. Other special requirements if have ?
For detail and price of Chicken Manure Dryer Machine, please feel free to contact us :
◆ Email: suncomachinery@hotmail.com

◆ Mobile/WhatsApp: +86-15838214261
◆ Video Links: