Application of Powder Filling Machine:
Powder Filling Machine is ideal for packing all kinds of fine powder and small granular material like Wheat flour, Atta, Gram flour, Milk powder. Curry powder, Coffee powder, Pharmaceutical and Pesticide powders, Soup mix, etc. Powder Filling Machine has the features of auto-weighing, auto-clip bag, auto-filling and auto-sealing, suitable for packing powder and small grain.

Powder Filling Machine Introduction:
Powder Filling Machine mainly consist of weighting system, pre-delivery belt, thermal sealing machine, sewing machine, and belt conveyor, etc. Thermal sealing machine and sewing machine are optional according to the customers' demand. Our powder filling machine has the functions of measurement, clip bag, filling, sealing, sewing, transmission, etc. Powder filling machine is specially designed for all kinds of powder materials such as limestone powder, gypsum powder, barite powder, cement powder, etc. What is more, powder filling machine adopts double-speed screw feeder, ensuring a higher precision.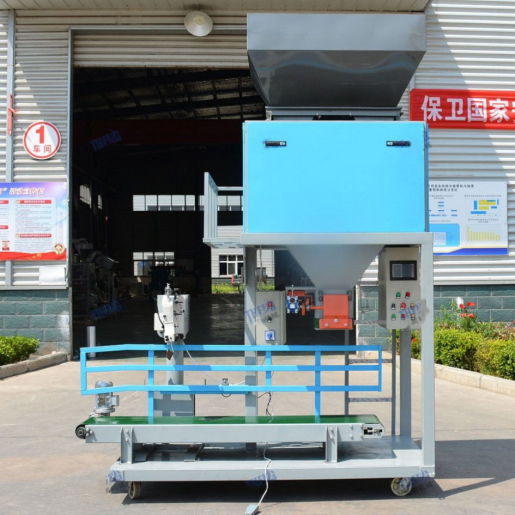 Specification of Powder Filling Machine:
Model
SDBY-P

SDBY-XP
SDBY-PD
SDBY-PW
Weighing Hopper
Single Hopper
Single Hopper

Double Hopper
No Hopper
Weighing Range

15-50 kg
10-20 kg
15-50 kg
15-50 kg
Weighing Speed

6-8

5-7
8-12

4-6
Power

1.1kw

1.1kw
3.0kw
1.1kw
Weighing Accurancy
(Static)≤±0.1%、Dynamic ±0.1%
Working Temperature

10-40℃
Installation Height

3700mm

3200mm
3800mm

2500mm
Notice: Any change of Powder Filling Machine technical data shall not be advised additionally.

If you are interested in our Powder Filling Machine , please refer to:
◆ Video: https://www.youtube.com/watch?v=vBZ9f0OgB2A

◆ Email: suncomachinery@hotmail.com
◆ Mobile: +86 15838214261