3 Tons per hour chicken manure dryer system has been installed well in Fiji. This Chicken Manure Dryer Machine is used to dry the clients' fresh manure, and the dried manure is to be used as organic fertilizer.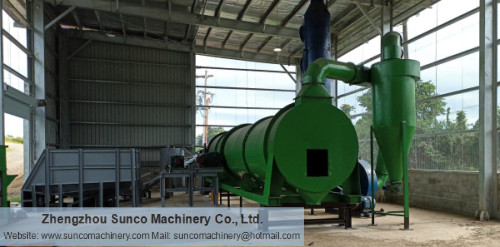 This Fiji clients' demand information on chicken manure drying machine is as follows:
* Application: Chicken Manure from layer farm

* Moisture Content (before drying): 65%

* Moisture Content (after drying): 13%

* Heat Source: Coal and Diesel
* Input Capacity: 3000 kg/hour.

This capacity 3 TPH Chicken manure drying system mainly includes:


* Mechanical Feeding Hopper: To store wet chicken manure.
* Inlet screw conveyor: To send wet chicken manure into the chicken manure dryer machine.
* Diesel Burner and Hot Air Furnace: To burn the fuel and supply hot air for the chicken manure dryer.
* Chicken Manure Dryer: To supply drying space and water evaporation chamber, and get rid of the water from wet manure, and reduce the moisture content of wet manure to be less than 15%.
* Induced Draft fan and air duct: To suck the high temperature air into the dryer drum, and suck out the water vapor and exhaust air out of the dryer cylinder in time.

* Cyclone dust separator : To collect the fine dust in the exhaust air.

* Deodorization tower: To help to lighten the odor as much as possible.

* Electric control panel: To be used to control the whole chicken manure drying system.