Congradulations! Capacity 15 T/H Spodumene Sand Drying System for South Africa Customer is Reday, after being dried by the sand dryer, the sand finally will be packed into ton bags.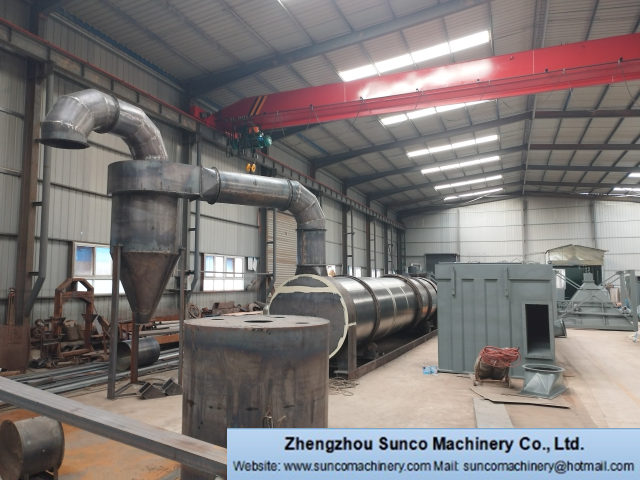 This Spodumene Sand Drying System mainly includes:
>>> Mechanical Feeding Hopper: To feed wet sand onto input belt conveyor;
>>> Input Belt Conveyor: To feed wet sand into rotary sand dryer machine.
>>> Rotary Sand Dryer: To heat and dry the wet sand, and reduce its moisture content to be less than 3& as need;
>>> Diesel burner and hot air furnace: To generate the heat for the sand drying process;
>>> Induced Fan: To suck the hot flue gas into the sand drum dryer, and make the exhaust air and water vapor out of the dryer in time;
>>> Cyclone Separator and Pulse Bag Filter: To collect the fine dust from the exhaust air, and keep the working area clean;
>>> Output Belt Conveyor: To send dry sand into rotary cooling drum;
>>> Rotary Cooling Drum: To cool down the hot sand, so that it can be packed into tons bags accordingly.
>>> Bucket Elevator: To feed dry sand into the hopper of bagging machine.
>>> Bagging Machine: To pack the dry sand into ton bags.
>>> Electric control panel: To control the whole sand drying line.
According to the different material to be dried, the Spodumene Sand Drying machine also is called river sand dryer, silica sand dryer, quartz sand dryer, slag sand dryer, etc.
For detailed offer of Spodumene Sand Drying machine, please feel free to contact Sunco Machinery:
>>> Email: suncomachinery@hotmail.com
>>> Mobile/WhatsApp: +86-15838214261